Get your access to the horses here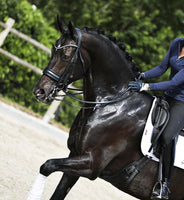 What you will get when you enter my network:
- Over 400 top dressage horses. Access to EquiNL network used by so many Olympic riders for so many years.
- The biggest network with TOP horses in the world.
- Commission FREE askingprices So you will save 10% on the price
- Direct access to owner/trainer details; name and telephone number
- For just 87 euro access You will see my whole network for one month.
- Stops automatically, no stress
- You can ask the owner and us everything, no secrets! Everything is open and if you have questions we are always willing to help you.
Get your access here
"Unlock Dressage Perfection: Explore 330+ Exquisite Horses with Transparent Access!"
Discover a world of dressage excellence with our extraordinary platform featuring over 330 stunning dressage horses. For equestrians seeking their perfect equine partner, we offer exclusive access to this exceptional collection. Join us today for just $87 per month and unlock a treasure trove of possibilities.

With each horse listing, we provide comprehensive owner details, including names and telephone numbers, ensuring direct and transparent communication. No more intermediaries or hidden fees. We believe in full transparency, allowing you to connect directly with the horse's owner to discuss all the details and negotiate the asking price.

Imagine browsing through a curated selection of exceptional dressage horses, each one accompanied by detailed descriptions and captivating images that bring their unique qualities to life. From talented prospects to seasoned champions, our platform offers a diverse range of horses that cater to every equestrian's desires.

By purchasing access to our platform, you gain the advantage of exploring this extensive collection at your convenience, empowering you to make informed decisions based on your specific preferences and requirements. Whether you're searching for a young talent to develop or a seasoned partner to excel in the dressage arena, our platform provides the tools and resources to fulfill your dreams.

Say goodbye to the limitations of traditional horse-buying methods and embrace a new era of convenience, efficiency, and cost-effectiveness. With our platform, you can save time and money by directly connecting with horse owners, avoiding unnecessary commissions.

Don't miss this opportunity to be part of an exclusive community of dressage enthusiasts, where you can network, share experiences, and learn from fellow equestrians. Together, we can elevate the world of dressage and celebrate the incredible journey that awaits you and your new equine companion.

Join us today and experience the thrill of finding your perfect dressage horse, with full transparency, direct communication, and a wealth of options at your fingertips. Your dream horse is waiting, and our platform is your gateway to dressage greatness.
Testimonials from around the world
EquiNL Exclusive Dressage is the place you must check if you're looking for a new horse. There's a lot of really good horses (young horses to schoolmaster) and without commission 

Raquel Bailon Folch from Spain
What you see is what you get. That's something we were waiting for and is very welcome in the horse world

Dominique Filion, International Grand Prix rider and trainer from Holland
WOW!! They are making an impression

Maja Gugala from Poland
I will choose them again! Best way to find my new horse, fast, clear and lots of variety!

Carla Benito from Spain
Good portal, well presented horses and easy to contact the owners. Great personal support if needed any help 

Marketa Matouskova from Czech Republic
This is the beginning of a new era in selling horses international.

Breeder of top KWPN horses
The transparency where we all have been waiting for

Customer from The Netherlands
Finally I can show my horses to the large EquiNL netwerk without being exposed all over social media

Famous Dutch stallion owner
Contact
My name is Viola Belksma and I can help you find your new dream horse! I have helped people from all over the world to find their new dream horse, including Olympic Riders!
To make it more transparant and easy for everyone I developed this new way to help people find their new horse and with great success. So many happy people have found their new horse thanks to me and that is the best feeling ever. ❤️
Can't wait to welcome you in the network! and help you find your new horse!
Feel free to contact me if you have any questions:
Mail: viola.belksma@equinl.com
Mobile: 0031-(0)6-10964370
Yes: I would love your help Viola! ❤️
Happy Customers
Over 75% of the customers comes back! Even when they have found their new horse